Our History
New Life Baptist Church started as a home prayer study with Pastor Norris Hodges leading the group. A charter was drafted and signed to officially constitute an independent Baptist church on November 1997.
The church initially met in the cafeteria at Treadway Elementary School before moving to a rented home on County Road 44. Seven acres were purchased on Poe Street at Radio Road as the permanent site for the church.
Services began in the new church facility in August of 2000. In 2003, Pastor Norris Hodges asked Dr. Bob Ware to take over New Life Baptist Church due to health issues. A new building was added in 2007 for offices and a fellowship hall which allowed NLBC to develop our children's and seniors programs.
In October of 2016, Pastor Bob Ware retired and the church called Pastor Greg Wilmore. Pastor Wilmore has a vision to build on the base of senior adults here in Leesburg, as well as develop a vibrant youth ministry that trains young people to serve the Lord.
Pastor Greg Wilmore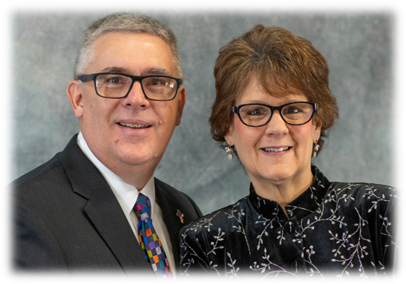 Greg was born again at the age of eight and was brought up in church all of his life. He attended Christian school from 4th grade through 12th grade. Under the ministry of Wilbur Hurt, at eighteen years old he surrendered to serving the Lord in whatever capacity God led. Greg attended one year of Bible College where he met his wife Renee. At the time he did not sense the call of God on his life for full-time ministry, so Greg began to work a secular job and was active in the local church. Eight years later God used the circumstances of a construction accident to call him to full-time ministry. Greg immediately enrolled in night classes and soon became a full-time student in preparation for the ministry. The Wilmores worked as laymen at Bethel Baptist Church under the ministry of Randy Parker, serving in children's ministry, bus ministry, teen ministry, as well as college & career from 1985-2000. He was licensed to preach in 1997.
After completing his Bible College Education in 2000 at Heritage Baptist University, the Lord moved the Wilmores to Orlando, Florida in 2001 and Greg served as the assistant pastor to Dr. Steve Ware at Tabernacle Baptist Church. Greg was ordained while at Tabernacle in 2006. Greg and Renee served faithfully in the church and school until the Lord called him to Pastor First Baptist Church of Matlacha (Cape Coral, Florida) in July of 2007. The church grew from ten to over sixty in eighteen months. He resigned in 2009 from this ministry and was instrumental in helping the church call its next Pastor.
In July of 2010 God directed the Wilmores to Dothan, Alabama to Pastor Mimosa Drive Baptist Church. Within one year, God allowed this church to merge with another Independent Baptist Church one half-mile away, and the Church reorganized as Victory Baptist Church. Pastor Greg has written a book entitled, "Knowing Your Place in the Ministry" which tackles the topic of serving as an assistant pastor. This book was published in 2017. In October of 2016 God called Pastor Wilmore to Leesburg serving as the Senior Pastor here at N.L.B.C.
Renee Wilmore
Renee was saved at the age of sixteen at a youth retreat. She attended Massillon Baptist College preparing to be a Christian School teacher. After the Wilmores were married in 1986, they had their son Joshua in 1988 and daughter Rebecca in 1991. Both children are now married and active in their local church. Renee has worked as a school teacher in elementary classes, and a substitute teacher covering all grades. She has led the ladies' ministries at Tabernacle Baptist Church, First Baptist Church of Matlacha, Victory Baptist Church, and now New Life Baptist Church. She has also spoken for ladies' meetings at other churches and various conferences. Renee has also served as a sign language interpreter in schools and church.
Deacon Eddie Barks
Eddie holds a bachelor's degree in Physical Education from the University of Central Florida. He recently retired after 39 years as a teacher in the various school systems including Mount Dora. He is married to Cindy with two children Samantha (Jeremy) and Chris (Mallory) along with a granddaughter, Autumn Grace. Eddie has served as a Youth Minister and is now serving as a Sunday School teacher, Deacon and the Worship leader.
Deacon Joe Bradner
Joe has served in the ministry for many years. This work includes teaching in a nursing home, volunteering with Rock of Ages Prison Ministry, ministering at the Orlando Union Rescue Mission, and he co-ordinates with his wife the annual Hospice Fundraiser Gospel Jubilee to raise funds for Hospice. He served as treasurer at NLBC for 8 years. He and his wife Shirley have 4 children and 8 grandchildren. Joe owned and ran an automobile business where he and his wife worked together for 37 years. He currently supports Pastor Wilmore as Deacon.